doPDF
Your free PDF creator
About doPDF
Short overview of doPDF
PDF stands for Portable Document Format and it was created by Adobe to ease document exchange. doPDF is a free PDF printer that does what the name suggests, creates PDF files. Once installed it will allow you to convert any type of printable documents to PDF files.
doPDF installs itself as a virtual PDF printer driver so after a successful installation will appear in your Printers and Faxes list and also in the list of All Programs.
With it you can convert your Word documents, Excel sheets, PowerPoint presentations, Publisher presentations, Visio drawings, Outlook emails, AutoCad drawings, company's reports, contracts, workflows, agreements, marketing plans, forms, products list, price list, charts, emails or web pages - and basically any type of printable document.
Using doPDF you can convert to PDF in two ways, via the Print option in your document or using the Startup window.
Print to PDF via the virtual printer driver doPDF.
You would do this exactly as you print to a regular printer, just the result will be a PDF file, not a printed piece of paper.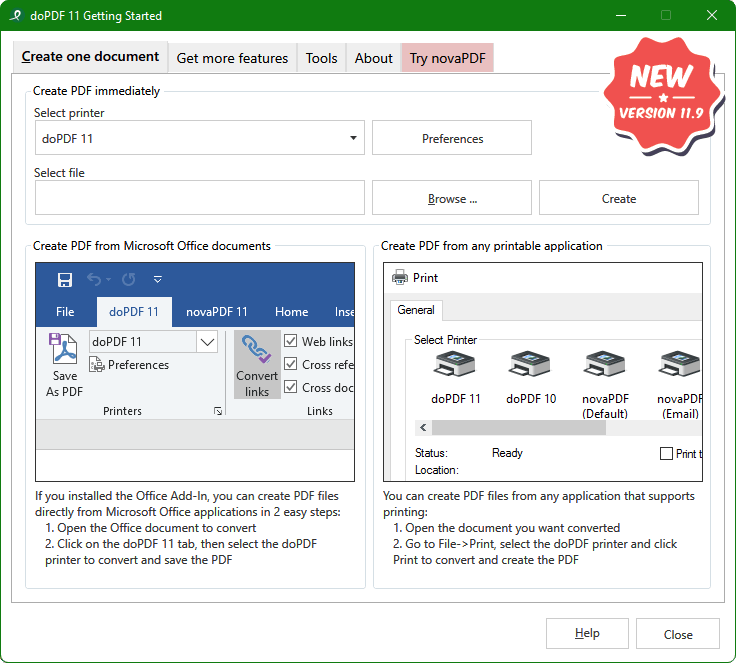 Using the doPDF Startup window.
doPDF has an executable file (accessible from the start program group) that you can run in order to start a conversion wizard.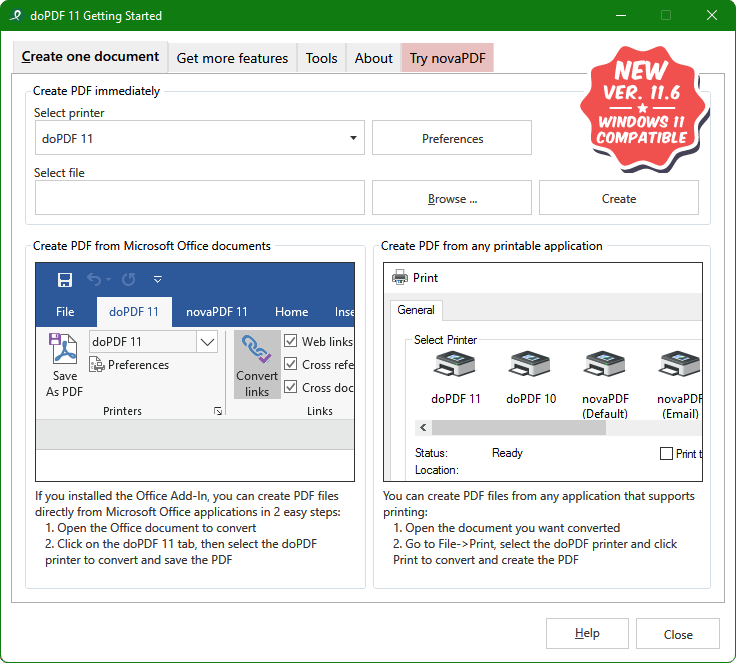 Main Features
What makes doPDF stand from the crowd
Brezplačen
tako za komercialno kot za osebno uporabo.
64-bitna podpora
lahko se naloži na 64-bitne operacijske sisteme.
Ni GhostScript
ne zahteva dodatne pomožne programe, da bi ustvarjal PDF datoteke (kot GhostScript). Zaradi tega je naložena datoteka neverjetno majhna v primerjavi s konkurenco.
Nastavljiva ločljivost
sami lahko izberete katero koli ločljivost med 72 dpi in 2400 dpi.
Prednastavitev/nastavitev velikosti strani po meri
izberite standardno velikost strani (Pismo, Uradno, A4, A5, A6, ...) ali vnesite velikost stani po vaši meri.
PDF-i z iskanjem
lahko raziskujete po besedilu znotraj ustvarjenega PDF dokumenta (mehanizem iskanja bo označil iskano besedilo znotraj PDF dokumenta).
Več-jezični
izberite jezik uporabniškega vmesnika iz 20-ih trenutno podprtih jezikov (
Sodelujte v čuvanju planeta
namesto da uporabljate papir za tiskanje svojih dokumetov, zakaj ne bi ustvarjali PDF dokumente in prihranili planetu nekaj dreves?
Zavzema zelo majhen prostor na računalniku
v primerjavi s konkurenčnimi brezplačnimi PDF pretvorniki, doPDF zaseda zanemarljivo majhen spomin oziroma prostor na računalniku, med tem ko se dokumenti dejansko spreminjajo v PDF obliko
Predefined page size
You can select a predefined page size for the resulting PDF file such as: A0, A1, A2, A3, A4, A5, A6, B4/5, Letter, Legal, Executive, Envelope DL/C5/B5/Monarch/#10, ANSI, ARCH (50 different formats available)
PDF output presets
You can create high quality PDF files (i.e. for printing) or smaller files (i.e. for web publishing), depending on your needs. You can also choose to balance the two options by using the medium quality preset.
Automatic updates
We always recommend using the latest version of doPDF and its integrated automatic update engine will keep your version current. Update checks can be scheduled daily, weekly or monthly, but you can also disable this feature.
Add Document info
Add document information for the resulting PDF file that helps especially with indexing. You can add a PDF title, subject, author, keywords and PDF creator. These details will show up in the PDF metadata info displayed in the PDF viewer.
Tray application
The doPDF Tray application offers a quick overview and gives shortcuts to the most popular actions, shows notifications and news.
Addin for Microsoft Office
During installation you can install the novaPDF add-in for Microsoft Office. This allows doPDF to offer one-click conversion to PDF from Office applications (Word, Excel, PowerPoint, Publisher, Visio and Outlook).
PDF Links and Bookmarks (add-in only)
When you convert PDFs using the add-in for Microsoft Office, you can convert bookmarks and links from the original document in the resulting PDF file.
Always use this folder
You can have doPDF create and save the PDF file to the same folder each time, no matter where you open the original document from.
Embed font subsets
To ensure that the resulting PDF file will look exactly as originally intended, doPDF embeds by default the font subsets used in the original document.